Ibakus helps you to manage your

AML

and

KYC

obligations
SaaS Software
For Chartered-accountants, Law firms, Notaries, Real estate agents, etc.
From 60€/month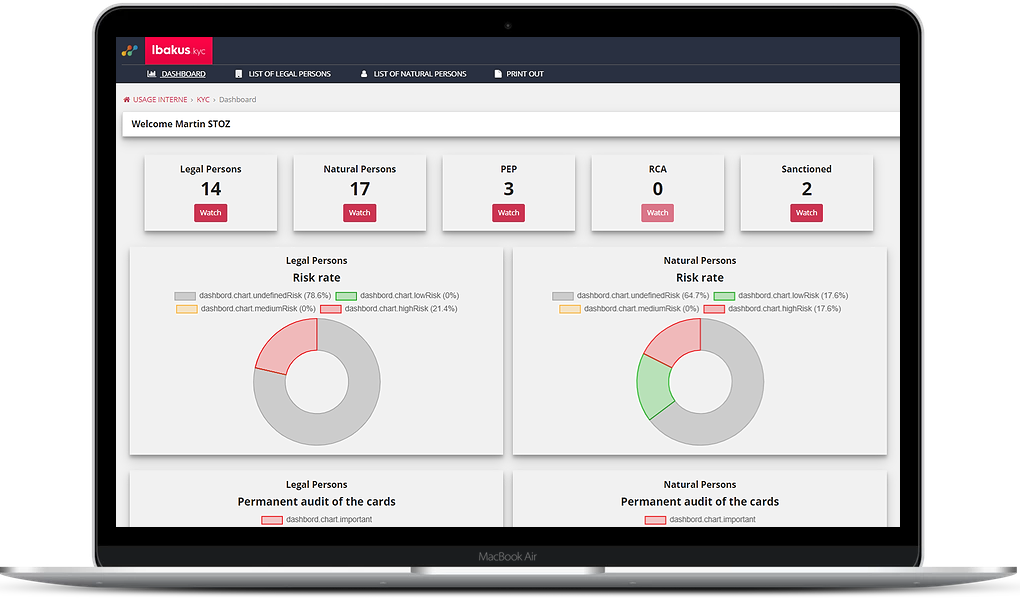 Continuous & automatic vigilance
Vigilance, one of the key points of AML obligations, is automated and carried out regularly to inform you if a customer's status deteriorates at any time.
AML risk assessement
We calculate the degree of money laundering risk in the business relationship by taking into account:
– the recommendations of the 4th European Anti-Money Laundering Directive
– the status of your contacts in our databases (Screening)
– the data collected on your contact
– and your relationship with him.
Adverse Media
Ibakus informs you about the negative content of your prospects and customers on the Internet in 9 languages
Verification of the authenticity of identity documents
We verify the authenticity of identity documents (passports, identity cards and residence permits) using state-of-the-art technology.
Verification of the client's identity
Verification of the identity of the client/prospect thanks to an analysis of the portrait on the identity document and a selfie.
Automatic document production – Reporting
The application allows you to create a multitude of documents necessary for the management of your obligations, such as the declaration of beneficial owner.
Extraction of data from identity documents (OCR)
When scanning the identity document, the holder's information is extracted and placed in the corresponding fields.